We pride ourselves in delivering the most professional, up-to-date, and quality content at the lowest possible cost.
Our UCAT Course has years of planning and research put into it and is created by students who scored in the top 1% worldwide! The UCAT is supposedly an aptitude test, but it's very clear that quality preparation can maximise your score. It is essential to learn the strategies and techniques required for answering all sections of the UCAT before committing yourself to weeks of practice.
Students often have "bad habits" when it comes to UCAT preparation – answering questions in a slow and inefficient way. We prepare you to change any incorrect approaches you may already have to ensure that you are utilising every second of your test and maximising your score. Each section is taught thoroughly, giving practice questions throughout and a mini mock test before the next section. The course is extremely interactive, so you'll be signing up for a day of engaging and informative content delivered in a simplified and really fun-to-learn way!
DAY 1
09:00 – 09:15 – Introduction
09:15 – 11:00 – Verbal Reasoning
11:00 – 11:10 – Snack Break
11:10 – 12:00 – Decision Making
12:00 – 13:00 – Lunch
13:00 – 14:00 – Decision Making cont.
14:00 – 15:00 – Quantitative Reasoning
DAY 2
09:00 – 09:15 – Introduction
09:15 – 10:00 – Quantitative Reasoning cont.
10:00 – 10:10 – Snack Break
10:10 – 12:00 – Abstract Reasoning
12:00 – 13:00 – Lunch
13:00 – 14:30 – Situational Judgement
14:30 – 15:00 – Concluding Remarks
---
What did our previous students think?
99%
5* reviews
100%
would recommend
500-Page UCAT Book (2023)
A complete, comprehensive, and easy-to-follow guide. Learn all the tips and tricks necessary for scoring 800+ in every section of the UCAT.
Written by students who scored in the top 1%, MedicHut's UCAT book contains a number of gems that will help you maximise your score. For each section of the UCAT, you'll find that each strategy is explained in simple terms, using relevant examples.
There are over 500 practice questions, including a complete mock exam and mini-mocks after each section. Each practice question has its answer explained in-depth to help your learning. We truly believe that this is the best UCAT resource out there.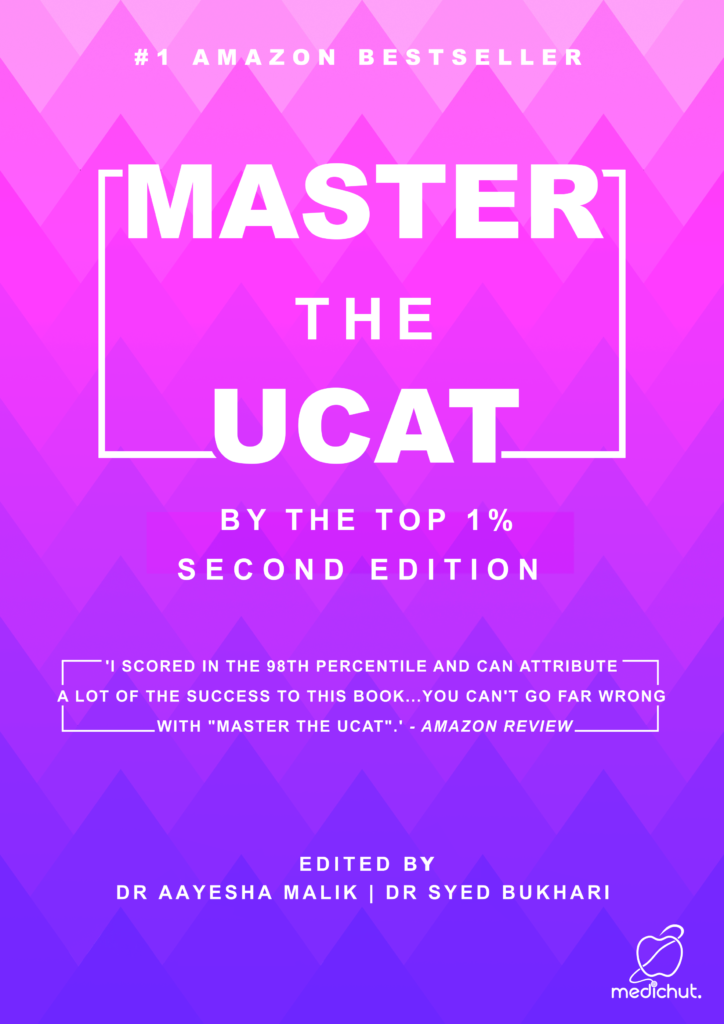 185-Lesson UCAT Video Series
If you prefer learning at your own pace, our video series is for you. With 185 videos, we cover everything you need to know about the UCAT in bite-sized lessons. You get access for the whole season, until the last day of UCAT! Learn practical methods of improving your speed, strategies and score, with content created by the top 1% scoring candidates.
Tutoring by top 10% scorers
The UCAT requires a lot of preparation, and with universities having a higher focus on the UCAT than ever before, the smallest difference in your exam result can make the difference between 4 interviews and no interviews.
Many students find it vital to have a tutor for A level subjects, but don't place as high of an importance on their UCAT score, which is equally, if not more important for getting into medical or dental school. A tutor is not only necessary when getting stuck on difficult concepts and questions. Having a UCAT tutor to support you through your entire revision journey can hugely impact your score and help you to secure interviews.
Our experienced tutors have scored in the top 10% on the UCAT and are able to provide you with all of the support and guidance that you may not even know you need! Having a UCAT personal tutor can make all of the difference, helping you to truly unlock your potential. Your tutor can:
Teach you all of the key strategies in a learning style that suits you
Run through difficult topics and questions
Cover time-saving techniques to help you maximise your score
Guide you on how to best improve your weaknesses
Provide practice questions, homework, and ongoing support
100% money back guarantee on the first hour if you're unsatisfied. All hours can be used for tuition on any other subject we offer, including A levels, and are transferable between family and friends. 0% interest instalment plans available. See Learn More above!
WhatsApp: +44 7851 862356 | Phone: 02034 888644 | Email: [email protected]
Speak to an admissions expert today!