Medical Work Experience Timetable
The week-long work experience programme will consist of a host of experiences across London hospitals to ensure that you're more than prepared for your medical school application. A sample itinerary is as follows, with exact itineraries being sent out 2 weeks prior to the experience date:
Sunday – We'll either collect you from your arrival point into London (Heathrow airport/Kings Cross station), or you can arrive directly at the accommodation. We'll give you a few hours to settle in and show you to your room where you can get to know your fellow students for the week. In the evening, we'll have our welcome briefing to talk through everything you need to know about the week – this covers meal times, curfews, and plans for the week. Following the brief, you'll enjoy the first feast with your course mates!
Monday – During the first day, medical school application tutors will cover everything you need to know about applying to medical school, from UCAT/BMAT to personal statements and interviews. We'll also cover how to make the best use of the upcoming work experiences in your personal statements and interviews. You'll finish the day armed with everything you need to make a successful application to medical school.
Tuesday – Today will focus on developing practical skills needed to be a doctor. In a central London hospital, you'll be rotating around several stations to gain experience in note taking, X-ray interpretation, venipuncture and suturing amongst other practical skills. The day is led by current practising doctors and is a wonderful opportunity to really get stuck in and see if you have what it takes to be a doctor.
Wednesday – Today, you'll have the unique opportunity to participate in a simulated ward round at a top London hospital. You'll learn the importance of thorough history taking and examination skills, before being thrown in the deep end to conduct your own ward round. You'll be seeing patients in small groups, and receive thorough feedback from each patient on your history, examination, and communication skills.In the afternoon, you'll be in a simulated radiology suite, learning how to interpret various types of imaging (to include x-rays, CT scans, ultrasound and MRIs) in order to diagnose patient cases. You'll feel confident in your diagnostic skills based on imaging after this session! This programme is also available to book as a one-day course. See dates and pricing at the bottom of the page!
Thursday – The first step to saving lives is to become a qualified first aider! You'll learn basic life support, including CPR. At the end of today you will be certified for three years (that looks pretty good on your personal statement!).
Friday – In the morning, you'll be in a simulated A&E setting at a top London hospital, seeing emergency cases and treating patients. This will include the use of sim which is typically reserved for medical school and postgraduate teaching. In the afternoon, you'll be in a simulated General Practice clinic and learn how to take effective histories before seeing your own patients. You'll have opportunities to take histories from patients and diagnose conditions that present to primary care. This programme is also available to book as a one-day course. See dates and pricing at the bottom of the page!
Saturday – It's time to say goodbye. We'll arrange your transfers to Heathrow, or escort you to Kings Cross station to make sure you get home safely. You are also welcome to be collected from the accommodation if you prefer. Just like that, you've had an action-packed week exploring medicine, armed with all the knowledge you need to gain a place at medical school, with a tonne of experience and references to back it up too.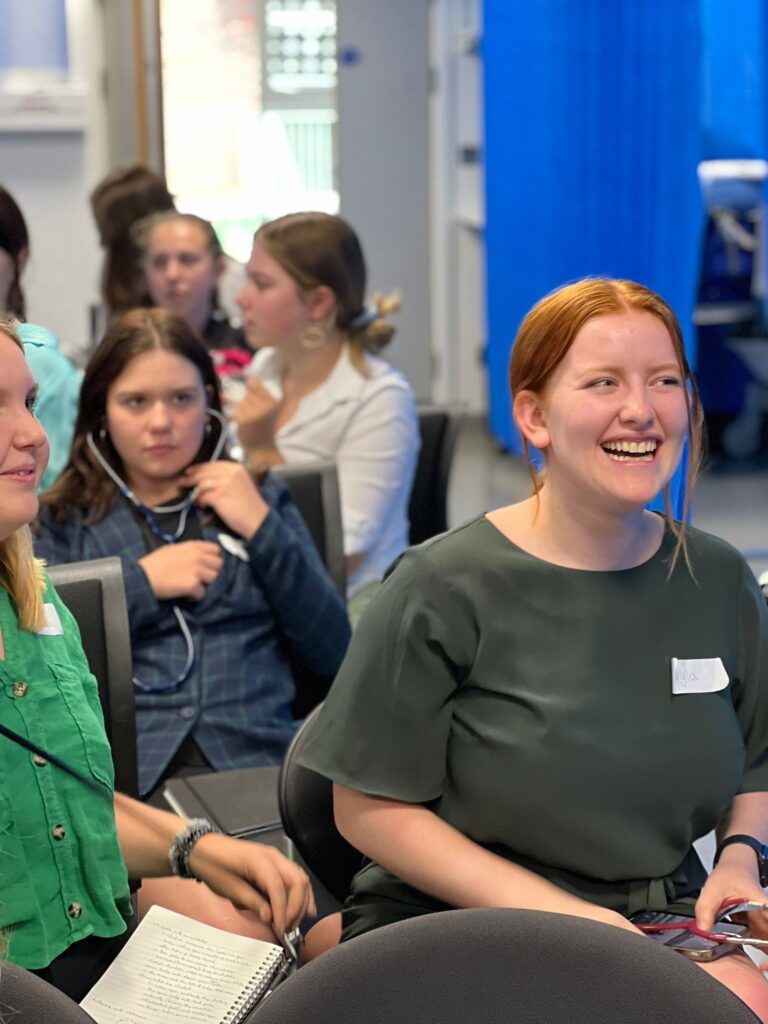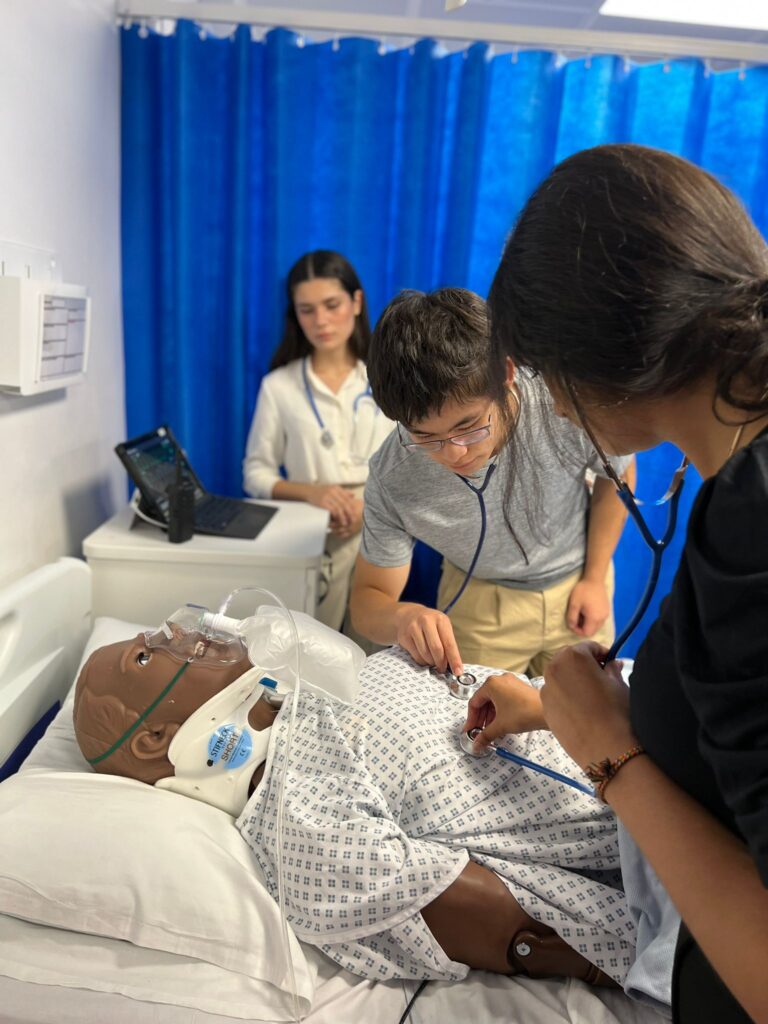 Student Feedback
'11/10 Experience. I learnt so much about so many different aspects of Medicine, such as an ED workshop with Aayesha and a GP session with Syed. Both of them were phenomenal; they both were extremely informative and great teachers and also super friendly and approachable. They both made the sessions interesting and exciting!!! Highly recommend this.' -Amelia Monteiro, July 2022
---
Accommodation
We want your stay with us to be as enjoyable as possible. A huge part of the experience is sharing it with like-minded students and feeling as relaxed as possible between the busy work experience days.
Your accommodation is situated very close to central London, just a few minutes walk from the tube station making it an ideal location for you to explore London with us and gain easy access to all of the hospitals we'll visit.
All of our rooms are private rooms, with your own ensuite bathroom, so you won't be sharing with anyone. You'll have a safe and secure space to call your own during your work experience with us.
We also have lots of communal space, making for a great atmosphere amongst your fellow peers. All rooms are comfortably furnished so you can be sure your free time outside your hospital placement is going to be every bit as enjoyable as your time spent within the hospitals.
Downstairs you'll find a lots of chill out areas and study areas too, perfect for that UCAT preparation. During your stay, you have access to laundry facilities, a gym that is free to use and an amazing cinema room, ready for you to enjoy the latest movies with your fellow students. The popcorn's on us.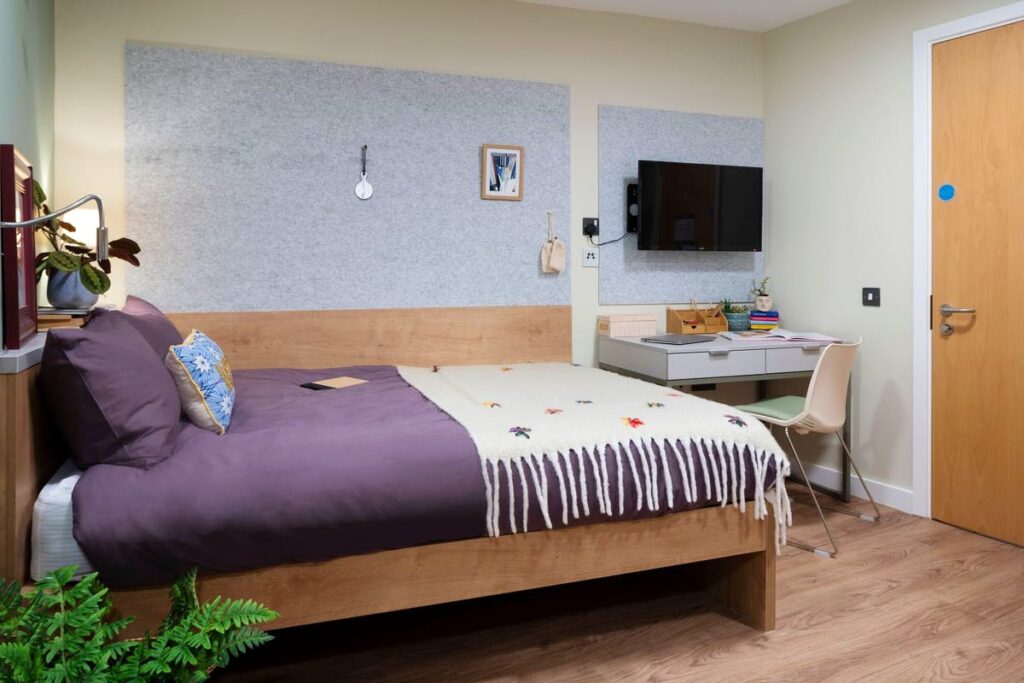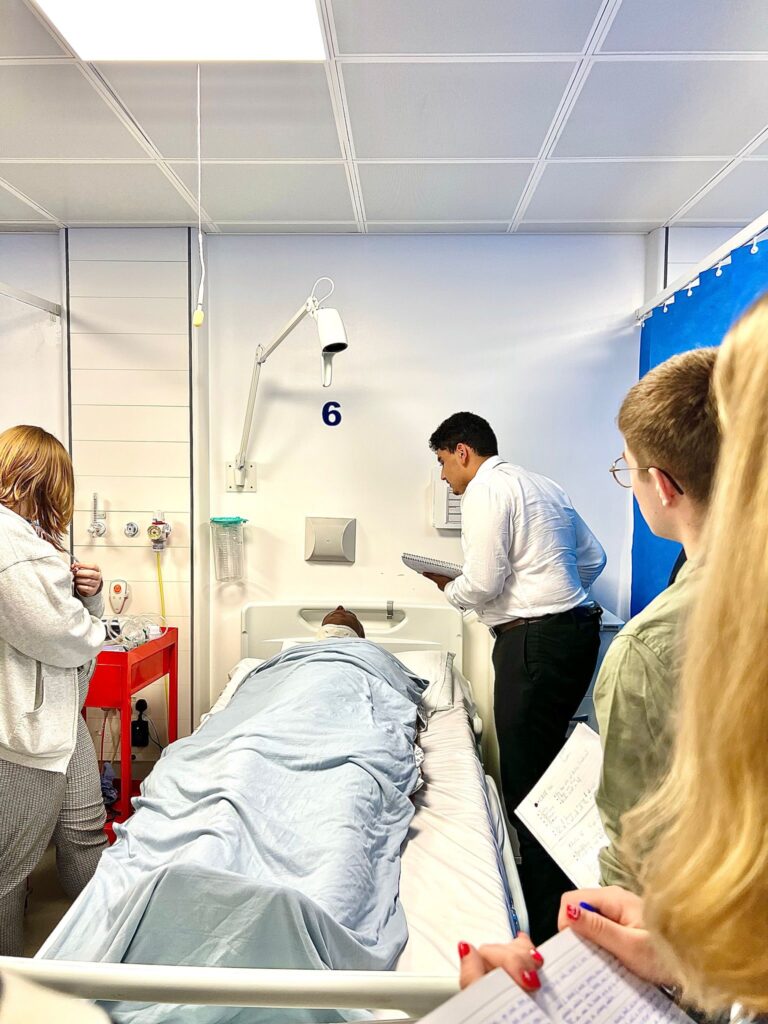 Student Feedback
Going through the process of taking a history with Syed was super helpful, I really feel like I better understand the role of a GP. He was incredibly charismatic and went into a lot of detail about everything we asked. He was more than happy to help however he could. Aayesha's simulated ED was really interesting. She is an amazing teacher and really portrayed the importance of compassion in patient doctor relationships.' -Daisy McAlpine, July 2022
---
Food
Each morning from 7:30am, a continental buffet breakfast will be provided, consisting of fresh juices, fruits, pastries, cereals, breads, and more. In the evenings, we'll take you to some of the best restaurants in the London area, with food choices suitable for halal, vegetarian, vegan, and gluten-free diets.
During lunch hours, you'll have the option to eat either in the doctor's canteen, student union, or local restaurants. We're big foodies and know the importance of maintaining a balanced and delicious diet to enjoy your week away, so we promise you'll enjoy every mealtime with us!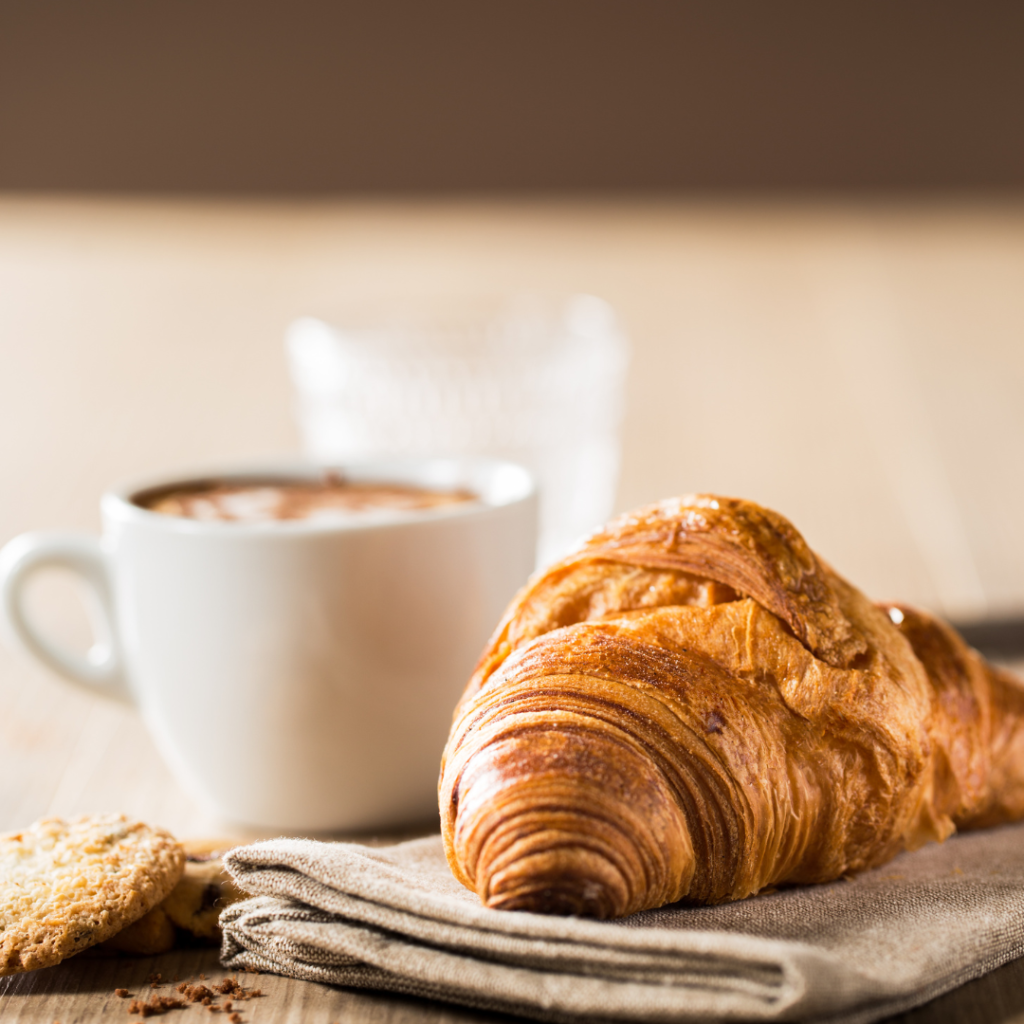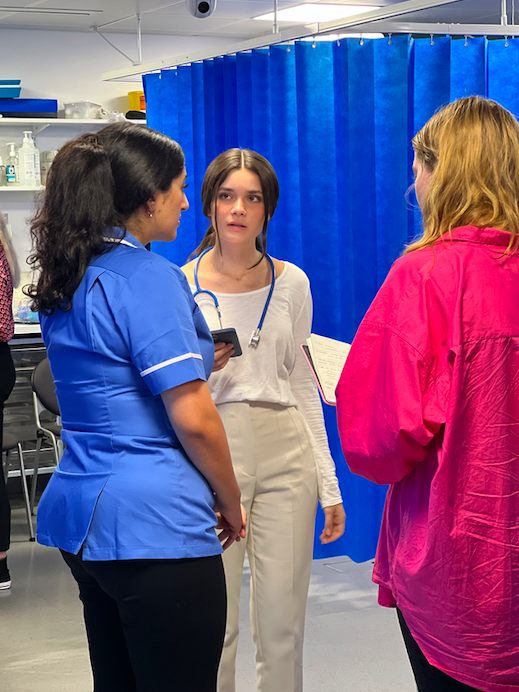 Security
There's 24-hour security and CCTV at the accommodation, so you can always feel safe and well looked after. It's our aim to allow you to concentrate on your hospital work experience while we take care of the rest.
Our team are always on hand to help you travel safely to the various hospital placements. We're also always available by telephone in case of any emergency, with 24-hour availability and monitoring. You can be in peace knowing that there's full security and supervision at all times during the programme, while still allowing you all the time you need to get to know your peers and enjoy your week!
Dates and Pricing
There are various dates available for our medicine work experience programme. The one-week residential programme is available on the following dates:
July 16th – 22nd 2023
August 6th – 12th 2023
August 13th – 19th 2023
October 22nd – 28th 2023
You can also choose to attend a one-day work experience course. This will be non-residential. The following dates are available:
18th July 2023: A&E and GP
19th July 2023: A&E and GP
11th August 2023: A&E and GP
15th August 2023: A&E and GP (SOLD OUT)
16th August 2023: Ward Round and Radiology (SOLD OUT)
19th August 2023: Dentistry Work Experience: Tooth carving, dental examination, interpretation of dental radiographs, dental school applications.
Pricing
1-Week Residential Work Experience
There is a one-time registration fee of £145 to secure your place on the programme. The remaining fee of £1720 will be payable within 2 weeks of booking. Once booked, we'll send you access to an online portal with information about the trip and payment information to clear the balance. The full itinerary for the work experience will also be sent across 2 weeks prior to the start date.
1-Day Work Experience
The total cost is £225 for the day, which is payable on booking. Once booked, you'll receive an initial email of payment confirmation. One week before the course date, you'll receive a further email with full details of the course.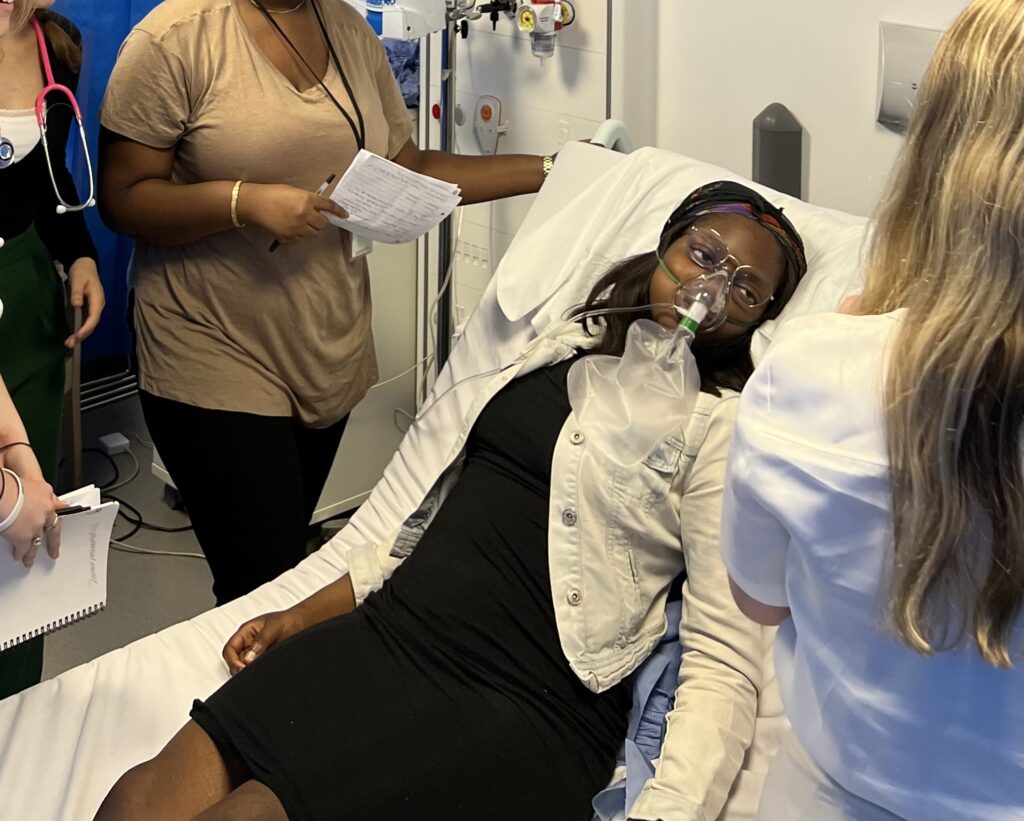 Speak to an advisor today!